Indonesia to produce 50% of medical raw materials: minister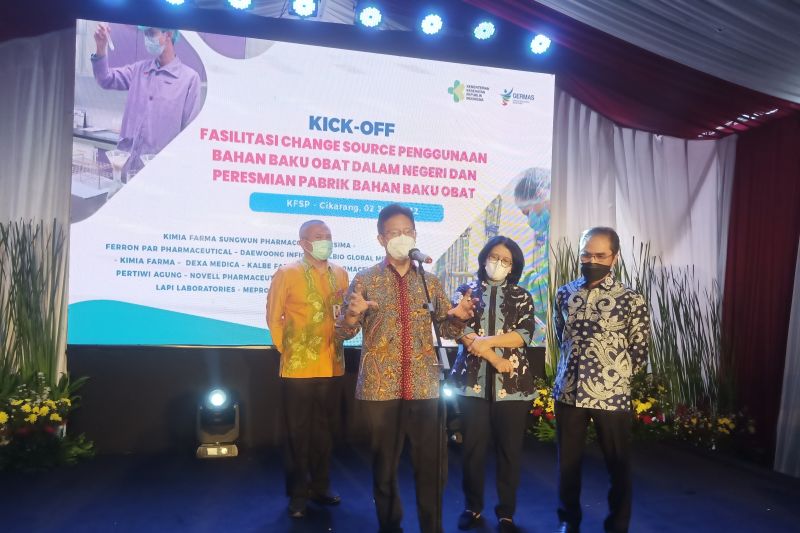 We want 50% of raw materials from upstream to downstream to come from the domestic market to avoid import from foreign countries during the pandemic
Cikarang, West Java (ANTARA) – Health Minister Budi Gunadi Sadikin aims for 50% of raw materials for medicines from upstream and downstream sectors to be available in Indonesia to reduce reliance on imported products pharmaceuticals.
"We want 50 percent of raw materials from upstream to downstream to come from the domestic market to avoid import from foreign countries during the pandemic," Sadikin noted in Cikarang, West Java on Thursday.
Based on the lessons learned during the COVID-19 pandemic situation, Sadikin highlighted the difficulties faced by Indonesia in obtaining vaccines from several producing countries, such as India.
The July 2021 Delta wave prompted Indian health authorities to stop supplying vaccines to various countries, including Indonesia, due to high domestic demand in the country.
"During this period, we were short of vaccine stocks as the vaccine manufactured by the Serum Institute of India was blocking the export of vaccines to meet domestic needs," he explained.
The minister believes that the concept of health security system is an essential policy since it is about human lives.
"We cannot tolerate it and we are ready to invest because it is very important for human life," Sadikin stressed.
The minister noted that Indonesia has promising natural resources for the development of medicinal raw materials, although so far more than 90 percent of demand is still imported from abroad.
One of the natural resources that can be used as raw materials for drugs is Petro Pharmaceutical products that can be developed for the manufacture of paracetamol drugs.
"It has become our duty to build the domestic petrochemical industry with the aim of meeting the needs of the pharmaceutical industry based on the chemistry that can be built," Sadikin said.
In addition, he is keen for the domestic pharmaceutical industry to develop plasma-based drugs, such as albumin, factor eight, immunoglobulin and gamaras.
"With our population of 270 million, we must become the world's fourth largest producer of blood plasma," he stressed.
In addition, Sadikin promotes the development of drugs based on biosimilars, which are imitations of biologic drugs, whose patents have expired. It has a position similar to that of generic drugs which are imitations of chemical drugs whose patents have expired, such as biological insulin, albumin and interferon drugs.
"The ministry will aggressively build the biotech pharmaceutical industry, which is the sixth shift in health transformation in Indonesia," he added.
To achieve this goal, the Ministry of Health facilitated the change of source for the use of domestic raw materials and the inauguration of the pharmaceutical raw materials factory at PT Kimia Farma Sungwun Pharmachopia Delta Silicone 1 in Lippo Cikarang, in southern Cikarang on Tuesday.
"The Change Source program will simplify bureaucratic affairs between the Ministry of Health and the National Agency for Drug and Food Control (BPOM). We hope that in the future the consumption of medicinal raw materials can become easier for pharmaceutical companies," he concluded.
Related News: Ministry provides 10 drug molecules to boost domestic production
Related News: BPOM unveils 'friendly online promotion zone' for drug MEPs
Related News: BPOM removes 'misleading' online traditional medicine ads