Medicine has deadly effect on endangered eagles — RSCN…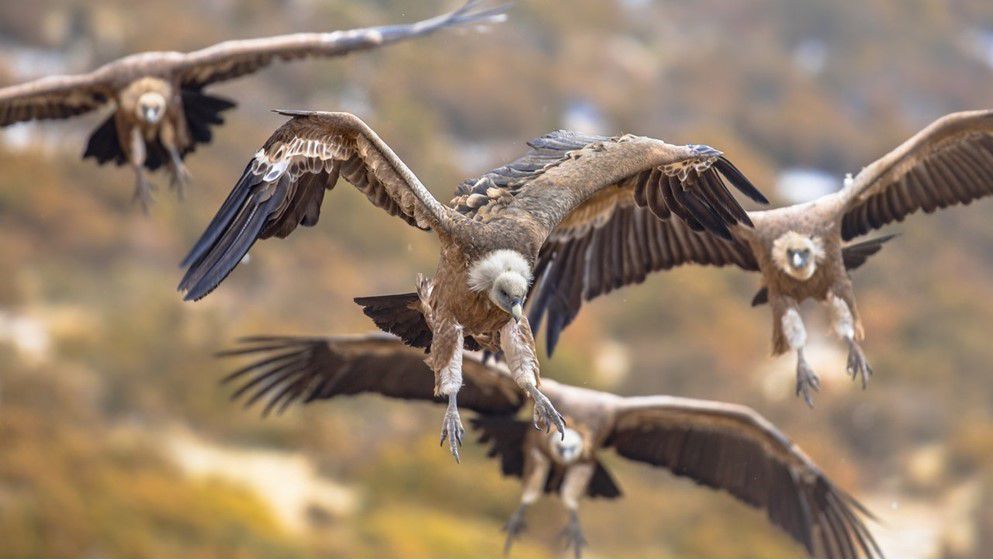 AMMAN – The Royal Society for the Conservation of Nature (RSCN) held a workshop on the deadly impact of diclofenac on endangered eagles in Jordan.اضافة اعلان
Diclofenac is an anti-inflammatory drug that local veterinarians and pharmacists prescribe to treat cattle, camels and cows. It is largely manufactured and imported into Jordan under various brand names, according to Tariq Al-Qaneer, director of RSCN's bird projects department.
Wednesday's meeting was sponsored by the RSCN as part of the EU-funded Egyptian Vulture New LIFE project and the Migratory Soaring Birds project, itself funded by the Global Environment Facility. The projects are executed by the United Nations Development Program and Birdlife International Company.
Fadi Al-Naser, director general of the RSCN, said that Jordan's geographical location "is an important immigration point for birds in the region".
"The RSCN has carried out many programs with different partners to protect migratory birds by publishing booklets and brochures; including the National Hunters Guide," he said News from Jordan.
the timing of the workshop is perfect in light of the current challenges affecting nature.
He said the RSCN "is always willing to cooperate with various agencies to protect nature."
Ibrahim Khader, Regional Director of Birdlife International Company, said "the timing of the workshop is perfect in light of the current challenges affecting nature."
Khader said the quality of birds "is a strong indicator of the quality of biodiversity", stressing that "despite technological improvement, risks persist".
He explained that hunting is very common in the region, where millions of birds are killed every year for different reasons.
One reason, Khader said, is the use of "diclofenac that exists in the bodies of dead animals, which eagles feed on."
The drug has been banned in several countries, including India and Iran. "We are doing our best to ban the drug in Jordan as well, as there are many substitutes in the local market," Khader said.
Qaneer said the RSCN was unaware of the existence of diclofenac in Jordan until a letter from Yemen "informed us that migrating eagles from Jordan died when they arrived in Yemen with diclofenac in their system".
Qaneer noted that the more dead eagles there are, the more stray dogs spread and feed on dead animals, leading to the spread of serious infectious diseases including anthrax, rabies and cholera.
India has spent billions of dollars over 15 years to cure rabies caused by the drug, according to Qaneer, who added that during this period the number of eagles in India has fallen from 40 million to 11,000 because they were killed by diclofenac.
According to the International Union for Conservation of Nature "there are 23 types of eagles in the world, 11 of which are endangered," Qaneer explained.
Neophron percnopterus, fulvus and Aegypius monachus are the types of eagles that exist in Jordan, Qaneer said. He pointed out that eagles are poisoned for unintended reasons such as insecticides, collisions with power lines and overgrazing, among others.
We are doing our best to ban the drug in Jordan as well, as there are many substitutes in the local market.
Last month, the RSCN worked with the Irbid electricity company on a project to insulate power lines in the Al-Ukaider area to prevent the electrocution of endangered white stork species. globally and reduce power fluctuations and unplanned outages caused by these birds. .
The RSCN has identified Al-Ukaider as a high risk area for birds to be electrocuted when perched on medium voltage power lines. The company's studies have also revealed that these birds build their nests and rest on power poles, posing a threat to various species, including the white stork and birds of prey.
Qaneer said the RSCN recommends banning the use of diclofenac and other harmful drugs in Jordan and replacing them with drugs with positive effects, such as meloxicam and tolfenamic. He indicated that scientific studies are underway to monitor the impact of these drugs.
Reem Al-Rewis, a workshop participant who works in the Department of Public Health and Environment of the Ministry of Health, said that "pharmacists should cooperate with the Syndicate of Veterinarians to encourage the use of beneficial substitutes for diclofenac".
Zaidoun Hijazeen, project manager for animal health at the Food and Drug Organization, said the One Health concept should be embraced, through disciplined drug use.
Hijazin, who also attended the workshop, said people who deal with medicines, birds and animals "should be honest" in carrying out their work.
Workshop participants suggested ways to dispose of dead animals, including reducing the cost of moving dead animals to landfills and building crematoria to burn their bodies.
In addition, they suggested drawing up a national plan with the authorities and decision-makers concerned to prohibit the use of Diclofenac, and to benefit from international legislation in this regard. Other recommendations included adding guiding instructions to drug package inserts.
They also recommended holding regular conferences, cooperating with universities, conducting tests on dead animals, and economically evaluating suggestions and recommendations and the feasibility of implementing them.
Learn more Features
Jordan News